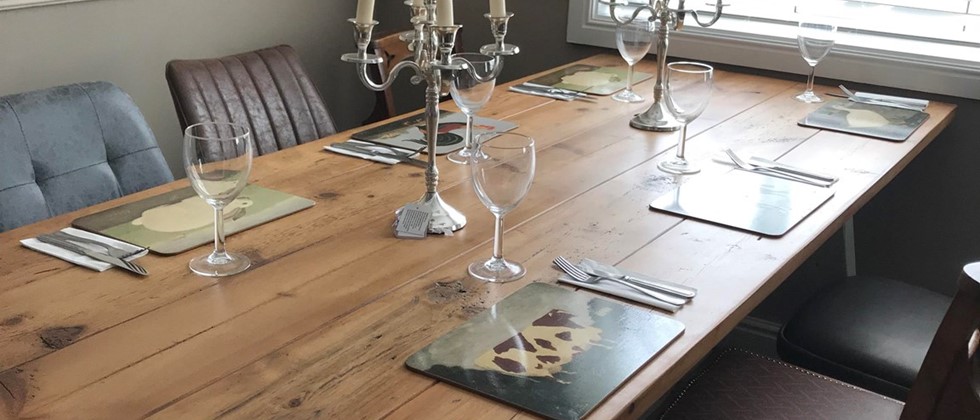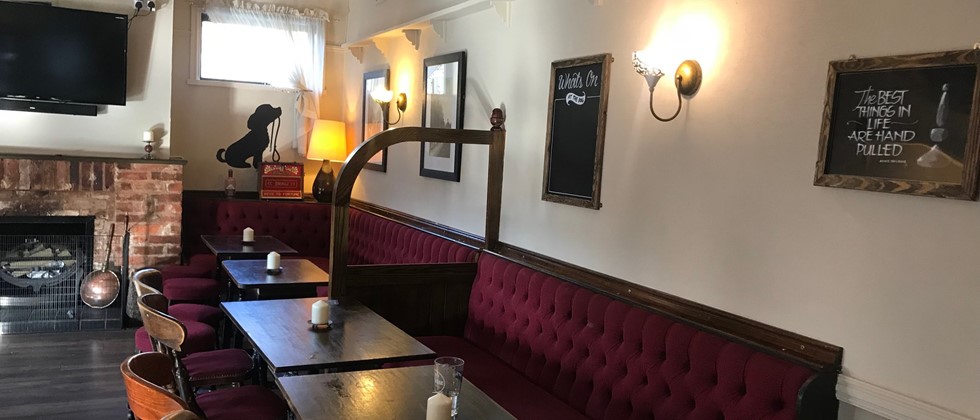 Food
Starters
Chef's Recommendations
From The Grill
Pub Classics
Burgers
Sides
Little Puppies Menu
Grazing Menu
Desserts
Allergen Information
Sandwiches & Ciabattas
Lunchtime Light Bites
Chefs Soup of the day
£4.95
Lightly Battered Halloumi
with a mango, chilli and spring onion chutney (v)
£5.45
Breaded Brie
with rocket salad and cranberry dip (v)
£5.25
Pil Pil Prawns
chilli and garlic butter, with rustic bread
£6.45
Stilton and Pepper Mushrooms
on a toasted ciabatta (v)
£5.25
Chef's Choice Pate
with caramelised red onion chutney, toasted bread
£4.9
Chicken Caesar Salad
Fancy as a main? £7.95
£5.45
Baked Camembert Sharer
toasted breads and red currant jelly (v)
£8.95
Poached Salmon
with sautéed leeks and potatoes and finished with a sun dried tomato and garlic cream sauce
£14.95
Slow Roasted Belly Pork
with rosemary infused mash, parsnip purée, Black pudding fritters and red wine jus
£12.95
Pan Fried Chicken Supreme
topped with creamed spinach and blue cheese, fondant potato, roasted vegetables and served with a red wine and balsamic sauce
£13.95
Marinated Lamb Rump
with dauphinoise potatoes, buttered greens and red currant jus
£14.95
Wild Mushroom Risotto Balls
with sweet potato and parsnip, spring onions and basil cream sauce (v)
£10.95
Mixed Grill
4oz steak, lamb chop, 4oz chicken, 4oz gammon, 4oz pork steak, sausage and black pudding
£18.95
10oz Gammon
with a choice of poached egg or pineapple
£10.95
8oz Rump Steak
£13.95
8oz Sirloin Steak
£14.95
Surf & Turf (with scampi)
8oz rump steak with Scampi
£14.95
Surf & Turf (with king prawns)
8oz rump steak with King Prawns
£15.95
All of the above served with hand cut chips, grilled flat mushroom, balsamic cherry tomatoes and beer battered onion rings
Sauces: Peppercorn, Diane, Stilton Cream or Sun Dried Tomato & Garlic
£1.50
Classic Hunters Chicken
skinny fries and homemade slaw
£11.95
Homemade Pie of the Day
with either creamy mash or chips and seasonal veg, jug of gravy
£8.95
Beer Battered Fish & Chips
with crushed minted peas/ mushy peas, homemade tartare sauce and chips
Standard £9.95 / Small £7.95
Goats Cheese & Pesto Wellington
with herb buttered new potatoes and dressed salad or vegetables (v)
£10.95
Trio of Sausages
with creamy mash and onion gravy and crispy parsnip shavings
£8.95
Chefs Authentic Chinese Chicken Curry
topped with spring onions, served with steamed rice and prawn crackers. Add king prawns for £1.00
£11.95
Breaded Whole Tail Scampi
crushed minted peas/mushy peas, homemade tartare sauce and chips
£9.95
6oz 100% Beef Burger
double up to a 12oz for £10.95
£8.95
Chicken Fajita Burger
Cajun spiced chicken breast, topped with cheese, salsa, onions and peppers
£9.95
Black & Blue Burger
either chicken or beef burger topped with a spiced blue cheese glaze
£9.95
Halloumi & Flat Mushroom Burger
with pesto mayo (v)
£7.95
The 'Dogs' Burger
chicken and beef burger, with cheese, bacon and onion rings, bbq sauce
£11.95
All burgers served in a toasted brioche bun, onion and gherkin garnish, skinny fries and homemade slaw
Additionals for burgers: Bacon £1.00 - Cheese 50p - Fried Egg 50p - Onion Rings (for 3) 75p
Garlic Bread
£2.00
Garlic Bread with Cheese
£2.50
Beer Battered Onion Rings (6)
£1.50
Hand Cut Chips
£2.50
Cheesy Chips
£3.00
Skinny Fries
£2.50
House Salad
£2.00
House Slaw
£1.50
All £4.95 including an Ice Cream Scoop & Wafer
Sausage n Mash, peas/beans
Chicken Nuggets, chips, peas/beans
Cheese n Tomato Pasta and garlic bread (v)
Mini Cod Bites with chips, peas/beans
4oz Rump Steak, chips and peas/beans
Beef Burger, skinny fries, peas/beans/coleslaw
Roast Dinner (Sundays only)
Swap chips for…..? Corn on the Cob / Carrot & Cucumber Sticks / Mini Salad Bowl / Garlic Bread
£1.00 each
Solo Grazers: 1 dish for £3.95, 2 for £6.95, 3 for £9.95
Honey & Mustard Pork Chipolatas, Garlic & Herb Flat Bread (v), Chilli & Garlic King Prawns, Cajun Chicken & Lime Skewers, Beef Meatballs with a Spicy Tomato Sauce, Mini Mushroom & Stilton Bake (v), Pork Belly Bites & Apple Sauce, Mini Lamb Koftas & Mint Mayo
Sharing Grazers: Baked Camembert
with toasted bread and red currant jelly (v)
£8.95
Sharing Grazers: Feta, Olives and Houmous
with breads, olive oil and balsamic dip (v)
£7.95
Butchers Board
Chipolatas, Pork Belly Bites, Cajun Chicken Skewers, Mini Lamb Koftas
£9.95
Ask your server for today's choices!
Food Allergies & Intolerances
Before ordering drinks or food, please speak with a member of staff about your dietary requirements. Please bring allergies to staffs attention, but we must advise that these products are handled in a multi-ingredient kitchen environment. Some fish may contain small bones.
Battered Cod Goujons
with homemade tartare sauce
£5.95
Rump Steak
red onions and peppers with applewood smoked cheese sauce
£6.95
Classic BLT
bacon, lettuce and tomato Fancy a club sandwich? Add chicken for £1.00
£5.95
Honey Glazed Ham
with mustard mayo
£5.25
Cheese & Red Onion Marmalade (v)
£4.95
Cajun Chicken
with lettuce and minted mayo
£5.95
Roasted Meat of the Day
with dipping gravy jug
£5.95
Goats Cheese and Roasted Peppers
with pesto mayo (v)
£5.95
All served with dressed leaves and parsnip crisps
Add skinny fries or chips to any sandwich for £1.50
Smaller portions of the favourites £6.95
Duo of Sausages & Creamy Mash
with rich onion gravy
Beer Battered Cod Goujons
with hand cut chips, crushed minted peas/mushy peas and homemade tartare sauce
5oz Gammon Steak
with hand cut chips, poached egg/pineapple and peas
4oz Rump Steak
grilled tomato, field mushroom, hand cut chips and peas
Creamy Mushroom Stroganoff
with steamed rice (v)
Wholetail Breaded Scampi
hand cut chips, crushed minted peas/mushy peas